CASBAR LOUNGE
Open 24/7 with Happy Hour Twice a Day
Get ready for an elevated lounge experience as you visit our stylish lounge — CASBAR — where you can enjoy top-notch spirits and cocktails in the perfect backdrop for conversations over libations.

Enjoy live lounge entertainment on Wednesdays, Thursdays + Sundays from 10PM – 2PM.
Delicious monthly cocktail specials
Sports viewing available
---
SEPTEMBER FEATURED COCKTAILS
Available September 1-30 | $13* each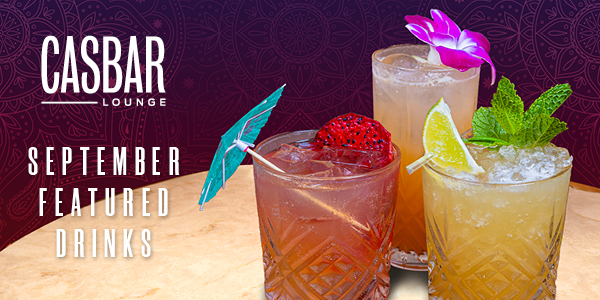 Let's Get Tropical
818 Blanco Tequila, Giffard Pamplemousse, Cantaloupe Syrup, Lime Juice, Red Bull Tropical
Peach Passion
Belvedere Vodka, Peach Purée, Passion Fruit Juice, Lemon Juice
American Mule
Blue Valor Whiskey, Honey Jasmine Syrup, Lemon Juice, Q Ginger Beer

70th ANNIVERSARY FEATURED COCKTAILS
Available October 1-31 | $13* each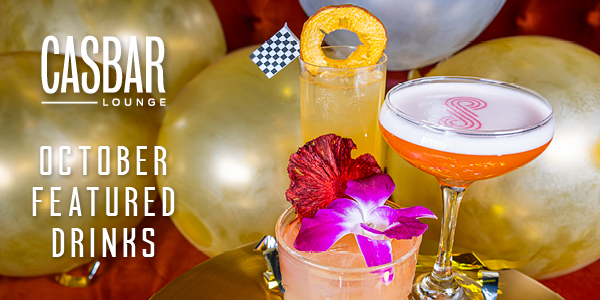 Ode to the Beachcomber
Captain Morgan Spiced Rum, Crown Royal Regal Apple, Orgeat syrup, pineapple purée, lime juice and Angostura bitters garnished with an edible orchid and pineapple wheel
Speed – The Ride
Tito's Handmade Vodka, peach purée, lime juice and Red Bull Tropical
The Sinfinity
Milagro Silver Tequila, Yellow Chartreuse Liqueur, Aperol, lime juice and Ms. Better's Bitters topped with foam and the SAHARA Infinity logo emblazoned on top


*Price excludes tax and gratuity. Must be 21 or older to consume alcoholic beverages. May not be combined with any other offer or discount. Management reserves all rights.

---
GET CREATIVE WITH YOUR CRAFT COCKTAILS
Personalize your cocktail with any picture you have on your smartphone. Simply scan the QR code on the bar menu, upload your image and notify the team of the cocktail you'd like. For questions, or support, please ask anyone at the bar about our Ripples cocktails experience.


---
FOOTBALL SEASON IS HERE!
With several viewing locations and our William Hill Sports book conveniently located on the casino floor, we invite you to watch all the pro football action this season at SAHARA Las Vegas! Catch your favorite games at CASBAR Lounge with these can't miss drink specials.


---
LIVE ENTERTAINMENT AT CASBAR

September | 9PM – 1AM
Tony Venniro – 9/29

October | 10PM – 2AM
DJ JT – 10/8, 10/22
DJ Santos – 10/1, 10/7, 10/29
Glenn Gallarde – 10/9. 10/27
DROC – 10/2, 10/5, 10/6, 10/12, 10/13, 10/16, 10/19, 10/20, 10/23, 10/26, 10/30

---
Tony Venniro
Tony Venniro is a Las Vegas native. From the moment he was of age, Tony's been performing at all the top venues in Vegas and worked with recording artists including Kiss and Bob Marley and the Wailers. Tony has been a favorite wherever he plays. His unique high-energy one-man-band features everything from acoustic guitar and voice to the full-band experience of live looping – where he builds arrangements live for the audience. A true Entertainer.
---

DROC

Local Las Vegas musician D-Roc uses his virtuoso vocal abilities, talented keyboard chops, and friendly stage presence to instantly engage audiences performing a wide variety of songs spanning multiple decades and musical genres. Whether teasing every ounce of expression from his piano in an intimate solo performance or bringing people to the dance floor, D-Roc transfixes listeners with his soaring vocals and smooth energy.

---
John Jones
John Jones is a rock-n-roll, clap your hands, stomp your feet, sing-a-long good time piano player and singer! Armed with a quick wit and the largest repertoire in the business, John has been seen on stages all across the country including the world famous "Pat O'Brien's Nightclub" in New Orleans and currently in some of the most popular piano shows in Las Vegas. As a boy, growing up in Des Moines, Iowa, John would listen in on his older sisters' piano lessons then go home and play them verbatim. This accomplished two things; it saved his parents a great deal of money and it really drove his sisters nuts! Bonus! John has opened for some of today's superstar acts including Ray Romano from "Everybody Loves Raymond" and Jon Stewart from Comedy Central's "The Daily Show."
Some people have compared John's singing style to that of the early Neil Diamond. The charming entertainer might agree; "Maybe so…with some Springsteen for the edge and a little Ray Charles for the soul."
When you watch and hear JOHN JONES perform, it's easy to see that he adores the craft of music and he's got the talent and the ability to make it come alive. Don't miss him!
HOURS
Open daily 24 hours

HAPPY HOUR
Daily 3PM – 5PM & 8PM – 9PM


Popcorn available as snacks for $5
Gallery