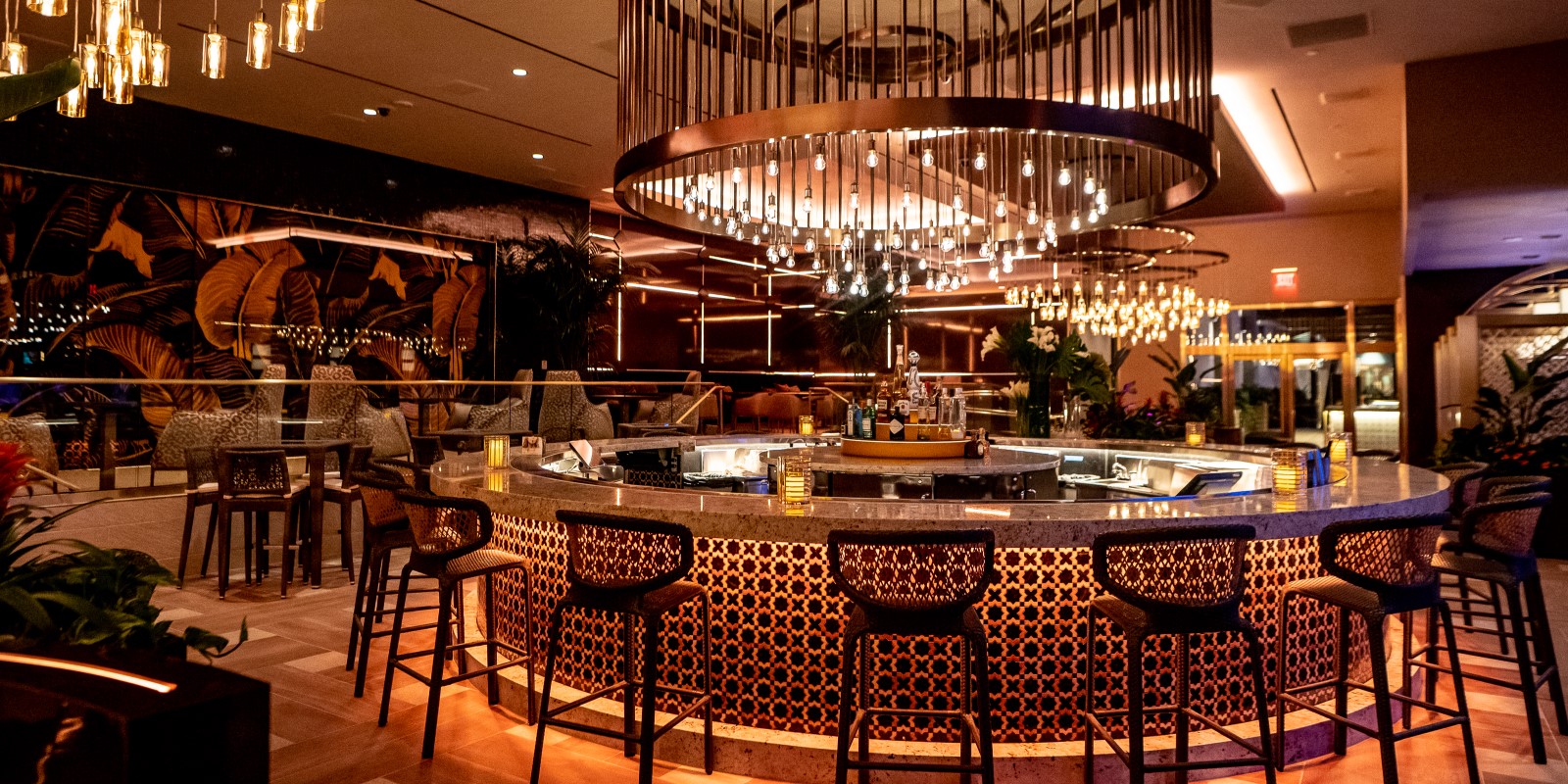 AZILO Ultra Lounge
Free Admission
Enter Through a Secret Entrance at CASBAR
Get ready for the newest nightlife destination on the Las Vegas Strip! AZILO Ultra Lounge is Las Vegas' most seductive and spirited lounge offering music, entertainment and a lively personality, where guests can indulge in well-balanced and decadent libations and immersive cocktail experiences, converse and be entertained in a warm and intimate atmosphere.
YOUR NEW FAVORITE AFTER HOURS SPOT
Doors open at 8:00 PM.



MALA VIDA FRIDAYS
Kick off your weekends with the hottest Latin night in Vegas! DJs: Shark, Platano, !Amlou, and Beto bring all the flavor in the most seductive lounge on the strip, AZILO Ultra Lounge.


SATURDAYS AT AZILO
Every Saturday night at AZILO Ultra Lounge will be a special theme curated with you in mind! We're thinking of 80's or 90's night, Top 40's, VIP, Red Carpet, etc. Themes that we all know and love so stay tuned for updates and expect for the unexpected!

---
AZILO ULTRA LOUNGE FEATURED COCKTAILS

Smoke My Cherry
Made with Bulleit Bourbon, homemade cinnamon syrup and Angostura Bitters.

The Grab Apple
Includes Jack Daniels Tennessee Apple Whiskey, St. George Spiced Pear Liqueur, vanilla syrup, fresh lemon juice and torched cinnamon.

Tai-Zilo
Crafted with Myers Dark Rum, Organic Mixology Coconut & Lychee Liqueur, orgeat and fresh lime juice.

Pineapple Margarita
Adding a twist to the classic margarita, AZILO's Pineapple Margarita features Patrón Silver, pineapple juice, fresh lime juice, chipotle pineapple syrup and coconut syrup with a Tajin rim.

The Mike Dropper
Crafted with Smirnoff Blueberry Vodka also includes Canton Ginger Liqueur, fresh blueberries, fresh lemon juice, simple syrup and fresh thyme herbs.

Cotton + Candy
Made with Tito's Handmade Vodka, Cointreau, cotton candy syrup and fresh lemon juice topped with freshly made cotton candy.

Night Walker
For the Vodka lover, this includes Ketel One Cucumber & Mint Vodka, St. Germain Elderflower Liqueur, fresh mint, Giffard Gomme Syrup and fresh lime juice topped with La Marca Prosecco.

Starry Night Surprise
With Empress Gin, orange juice, pineapple juice and fresh lime juice.

Rosy Cheeks
Includes Bombay Sapphire Gin, St. Germain Elderflower Liqueur, fresh lime sour, prickly pear, egg whites and Peychaud's Bitters.

HOURS
8:00 PM – 3:00 AM | Friday & Saturday

Admission is complimentary. Must be 21+.


Connect with us on social
@azilolasvegas

Gallery